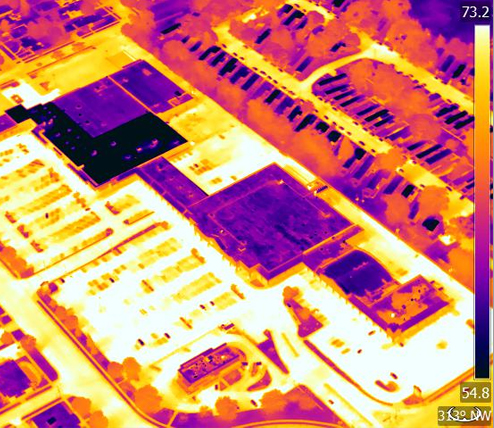 Frequency:

2x per year
Aerial certified infrared thermographic imagery scan is to be performed two times per year to detect the presence of any moisture in the new roofing system, once after snowmelt in spring (between March and June) and once prior to snowfall (between July and November), typically we attempt to space the inspections apart by about five of six months to capture any differences in roof performance between inspections.
Provide Certified Infrared Thermographic Imagery Inspection Reporting including the certified infrared thermographic images, a computer-assisted design (CAD) drawing indicating any problem areas as inferred from the infrared thermographic data in a report format to be provided electronically to the client.
Provide aerial photography in high-format resolution with 21.4-megapixel ultrasonic aerial-optimized and gyroscopic-stabilized platform capture technology. This imaging will provide ponding-water and overall-condition data as we can see the amount of water left standing on the roof surfaces as well as provide insurance-company asset tracking information to document your attention to maintaining the roofing systems installed. (This tracking data is extremely important if you ever wish to maintain your loss coverage from a roof leak, which typical insurance policies exclude in "seepage over time" exclusion clauses. The ability to document a leak-free condition within the last roof inspection will allow you to make a valid insurance claim a new roof leak with less fear that they will reject it for lack of evidence.)
Document any indicated areas of moisture in the roofing system, areas of standing water, areas with apparent damage or other problem areas on a CAD roof map for the visual (physical) roofing inspection segment of this maintenance agreement. This provided information will allow for a comprehensive examination of the areas during the physical on-roof inspection which might otherwise not be afforded additional attention.