TPO Roofing
Professional TPO roofing contractors at Roofed Right America provide high quality installation and repair of many types of roof systems. Our TPO roof systems are installed quickly and are very cost effective. Roofed Right utilizes durable, high quality TPO roofing materials for many commercial roofing repair and installation jobs.
TPO materials can be installed on American metal roofs and flat roof systems and is naturally resistant to chemical and ultraviolet exposure damage. Read More
Previous Roof Type: Green/Blue Roofing
Next Roof Type:

EPDM Roofing
Recyclability:100%
Maximum Service Temperature:116° C (240° F)
Minimum Service Temperature:-40° C (-40° F)
Thickness:45 – 60 mil
Tearing Strength:55lbf
Resistance to Fungus and Microbes:Excellent
Meets ASTM Standards:Pass
Qualifies for American Tax Credit:Yes
Green TPO Roof Systems
Businesses across the nation are becoming more focused on using environmentally responsible building materials. As a result, many commercial roofing contractors have turned to using TPO roofing membranes in their American flat roof repair jobs.
American Tax Credits for Green Roofing
TPO roofing membranes are also 100% recyclable, making these roofing systems environmentally friendly and eligible for American tax credits. They save your business money in more ways than one.
The TPO roofing systems combine plastic and rubber materials to create a cost-effective American commercial roofing choice capable of years of dependable, weatherproof use.
Energy Efficient TPO Rooftops
Our TPO roofing contractors at Roofed Right understand exactly how to place insulation materials for the most energy efficient roofing system. American roofing requires professionally built TPO roofs to cut down on energy bill costs. Properly insulated roofs contain heat during the winter and reflect it during the summer, allowing for reduction of electricity or gas usage. Professional Roofed Right commercial roofing contractors install high quality TPO rooftops to save you money.
Waterproof TPO Roofing
The expert TPO flat roofing contractors at Roofed Right are experienced in providing high quality roof systems to protect your business from costly water damage. Our professional flat roofers will repair leaky spots in TPO systems and can raise parts of the roof to prevent water buildup.
We are also experienced in installing new TPO roof systems to give your business a completely waterproof flat roof. Keeping the roof leak free and watertight is important to the structural integrity of the building and prevents the need for costly repairs. If water damage is not taken care of immediately, the entire roof will require complete replacement. The professional American TPO flat roofers at Roofed Right build reliable roofing systems and provide regular maintenance to ensure your roofing system stays in top shape.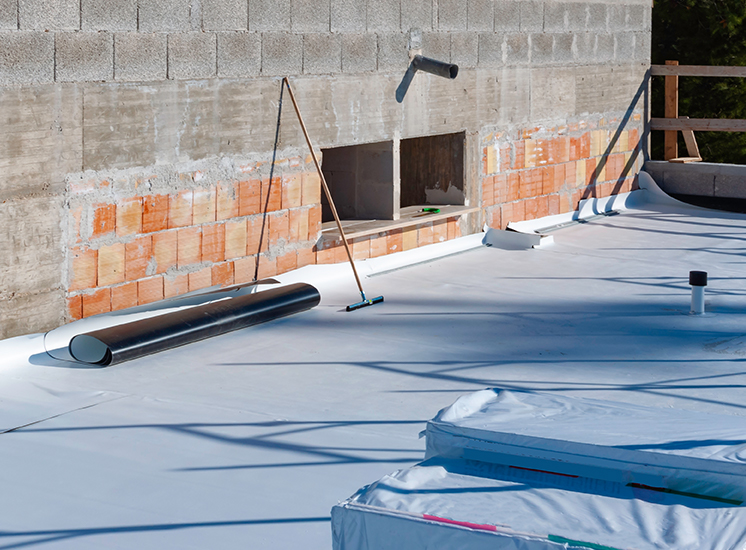 Maintenance of TPO Roofs
Our experienced TPO roofers provide reliable maintenance to all roofing systems. Regular maintenance from professional roofing contractors is important for keeping the roof intact and preventing costly damage from occurring. Roofed Right's contractors are available to provide yearly roofing maintenance such as cleaning, inspecting and repairing rooftops. We evaluate TPO roofs and carefully inspect the system for cracks, leaks, or holes in the building material and begin work on the roof immediately.
Leaving rooftops unmaintained or keeping rips, sags and holes in the roofing material can cause irreversible damage to the existing system. Allow our professional American roofers to inspect your roof for damage and safe tons on roof replacement costs. Roofed Right provides excellent TPO roofing maintenance services and offers free on-site TPO repair quotes with our in-depth inspections.
Revisions to the ASTM International Standards for TPO Roofs
In 2011, the ASTM TPO standard was revised to increase their durability and performance. It is important to hire a roofing contractor who is up-to-date on the latest developments of roofing standards to ensure you have a long lasting roof.
TPO roof systems installed before the latest revision may have a variety of issues including:
Premature aging
Seam failure
Leaks
Decrease in energy-efficiency
The latest revision increased the minimum thickness over scrim from 12 mils to 15 mils. The way TPO membrane thickness is measured was also changed as a result of this revision. Previously, thickness was measured using only the optical method; now, it is measured using the "Standard Test Method for Measurement of Thickness of Coatings Over Fabric Reinforcement", or ASTM D7635. This is a much more reliable form of measurement.
Our American roofing contractors keep up-to-date with the industry standards and install TPO roofs using the required specifications and measurements. We ensure your roofing system is not only installed properly, but functions like new for years to come.
Whether you have a TPO roof installed before the 2011 standards were set in place, or you have a brand new roof, have Roofed Right provide thorough TPO roofing inspections and maintenance services regularly.
How to Tell if Your Roof Meets the D6878-11a Revision
Some contractors may not be up to code, and install TPO roofs with the old materials. If you notice signs of premature wear and tear like seam failure, you should get the roof inspected right away. Check with your roofing contractor to ensure they are aware of and follow the industry standards for TPO roofs before hiring them for your next project.